Upcoming Races for Z-Rated Racing


The Z-Rated Racing Team will be competing in the following events for 2000

| | | | | |
| --- | --- | --- | --- | --- |
| Date | Track | Event | Drivers | Cars |
| April 1,2000 | Englishtown NJ | GM High Tech Magazine Shoot Out #1 | Pador, Lynch, Flynn, Valentino | 99Z28,2000 WS6,1998 T/A, 1995 Z28 |
| July 8,2000 | Englishtown NJ | GM High Tech Magazine Shoot Out #2 | Pador, Lynch, Flynn, Valentino | 99Z28,2000 WS6,1998 T/A, 1995 Z28 |
| July 29,2000 | Englishtown NJ | 18th annual Mothers PerformanceCamaro/Firebird vs. Mustang Challenge | Pador, Lynch, Flynn, Valentino | 99Z28,2000 WS6,1998 T/A, 1995 Z28 |
| October 28,2000 | Englishtown NJ | GM High Tech Magazine Shoot Out #3 | Pador, Lynch, Flynn, Valentino | 99Z28,2000 WS6,1998 T/A, 1995 Z28 |
| November 5,2000 | Englishtown NJ | 3rd Annual High Tech Import Vs. U.S. Muscle | Pador, Lynch, Flynn, Valentino | 99Z28,2000 WS6,1998 T/A, 1995 Z28 |
October 23rd,1999 I was able to pull off a First Round victory at Round 1 of the
GM High Tech match and also managed to get my cars picture shown on
the Main page of the article featured in the September Issue of GM High Tech on
page 31 with my 96' Z28. ( Pictured Here ) How convenient ! LOL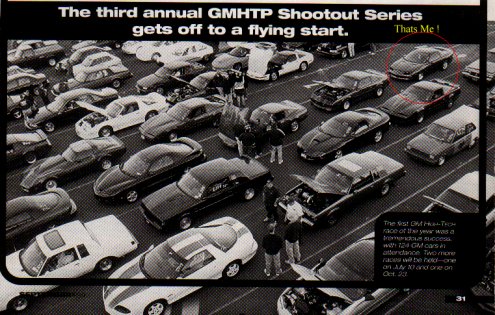 Hopefully I will be able to smudge my way into the next issue with my New 99' Z28 LS1
with a victory or just plain luck like last time !
_____________________________________

UPDATE: Aug 28,1999 - - - Well Z-Rated Racing competed in the Englishtown Camaro/Firebird Vs. Mustang Challenge ! I managed to better
my best time with the LS1 in stock trim to a very nice ET of 13.42 @106.14mph. I also managed to get into round 3 of elimination's before loosing by .082 sec
after spinning the tires on my launch and a crappie .879 R/T. But I still came home with a nice trophy and managed to meet several guys from
the CAMAROZ28.com and LS1.com Bulletin Boards. Humidity and temps were high, so as soon as the cool air hits I should be VERY close to breaking into the
12's with no problem !
Hopefully I will see some of you on OCT 23,1999 for the GMHT Shoot Out !
Oct 23rd proved to be a GREAT day for Z-Rated Racing. A New best of 13.04 @ 108.37 mph was had. Just missing those
elusive 12's damn it. Well I'll try again but hopefully it will happen soon !
UPDATE: November 28,1999 - - - A test and Tune session at Island Dragway proved to be a winner today. With the temp a bit on the cool
side and a blessing from the man above we finally hit the 12's ! At 2:29 pm we ran a 12.98 @ 110.01 mph grabbing a killer 2.06 60' time !
I felt funny being a 35 year old man screaming like someone pulled out my toe nail after getting the time slip but What the hell, Thats what it's all about right !
Well that should be it for racing this year. Hopefully during the winter I'll get some new toys to put in the car and get the times to the mid 12's next spring.
Once again I would like to Thank my sponsors, Rob Raymer of LS1 Motorsports and Bennie Mennitti of Mountain Auto body for making this happen. Also a
Special Thanks to Lonnie Pavtis of LPA Automotive for his support, advice and technical help ! You have all made a very small BUT important dream of mine come true. Z-Rated Racing would not have become a reality without your support. Your efforts (as well as mine) have resulted in our New Best ET,MPH & 60' time
All in one day ! Damn we are good !!! Thanks Guys !

UPDATE: April 1, 2000 - WOW, What a GREAT day at Englishtown. I placed 5th overall out of over 200 cars in the 1st round of the GM HIGH TECH SHOOTOUT. I was looking for the gold but had to settle with 5th. Oh Well, Thats Racing !!! I had a Ball !!!!! Look for a picture in the next issue of the magazine with my team in it !!!!
UPDATE: July 8, 2000 - - - GM High Tech Shootout #2 was a success ! I made it to round 4 this time before loosing due to me sleeping at the light and pulling an awful .800 light after cutting .500's all day !!! Oh well thats racing folks... But I did manage to come home with another "Class Winner" trophy. I also made it into the pages of GM High Tech magazine again, A picture of my car AND My Racing teams name in the article !!!!!!! How cool ! It appears in the Sept. 2000 issue on Page 12. Here is the scan, along with the color photo in which I have to prove it really is my car and 1 of those trophys are mine !!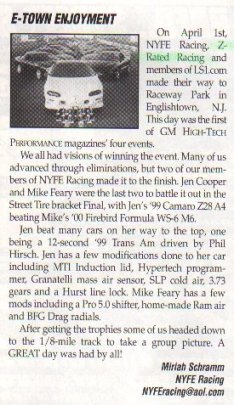 In GM HIGH TECH MAGAZINE AGAIN !

Best Times for my cars
1999 Z28 M6 LS1
Best E/T Best MPH

| | |
| --- | --- |
| 12.98 | 110.01 MPH |
Best 60' Best R/T
With Mods
| | | | | | |
| --- | --- | --- | --- | --- | --- |
| Island Dragway 11/28/99 | ET/ 12.98 | @ 110.01 MPH | Tempiture 52' | Humidity 55 | Barometer 30.51 |
| | | | | | |
| --- | --- | --- | --- | --- | --- |
| Englishtown NJ 10/23/99 | ET / 13.04 | @ 108.37 MPH | Tempiture 54' | Humidity 45% | Barometer 29.51 |
Stock
| | | | | | |
| --- | --- | --- | --- | --- | --- |
| Island Dragway NJ 8/6/99 | ET / 13.63 | @ 105.84 MPH | Tempiture 87' | Humidity 32% | Barometer 29.87 |
| Englishtown NJ 8/28/99 | ET/ 13.42 | @ 106.14 MPH | Tempiture 83' | Humidity 54% | Barometer 29.19 |
1996 Z28 M6 LT1
(Loads Of Mods)
| | | | | | |
| --- | --- | --- | --- | --- | --- |
| Englishtown NJ 4/24/99 | ET / 13.33 | @ 105.74 MPH | Tempiture 55' | Humidity 21% | Barometer 30.01 |
A good day at Englishtown should bring 12.'s in the LS1 ! Well ---- IT DID !!!!!! But at Island Dragway ! Go Figure
--------------------------------------------------------------

-------------------------------------------------



Z-Rated Racing Is Sponsored By

Our New Sponsor For Z-Rated Racing



Copyright 1999-2000
Updated 3/8/2000
Racing Team name created by: Chris Breault -- Maple Ridge,British Columbia,Canada, Thanks Chris !
Racing In Memory to Greg Moore #99 CART 1975-1999