William Kahrs 1986 Z28 Sport Coupe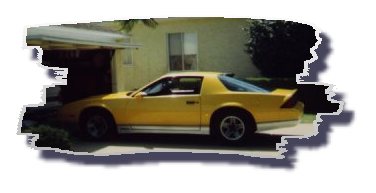 MODIFICATIONS:
Orginally 305 cid LG4, replaced w/ 84' L69
Custom mixed Corvette Yellow & Metalshaving Paint w/ Gray ground effects
All side triming removed and shaved emblems
TH-700R4 automatic w/ OD, and 3.23 gears non-posi
Power windows, power door locks, power rear hatch release, third brake light, cruise control
IROC 15" rims w/ Goodyear Eagle 215-65-15 (front) & 235-60-16 (rear)
The Motor:
1984 Chevrolet Camaro Z28 L69-305HO cid (rebuilt)
Magnafluxed, hot-tanked, bored 0.30 over & honed w/ torque plate
Cylinder heads had a 3-angle valve job, and replaced exaust valves.
Resurfaced heads,
Line bored mains, grind, and micropolished crank
Resize, align, chamfer connecting rods. ARP Rod bolts added
Fully balanced and blueprinted w/ Flexplate & Balancer
Silvo-Lite 0.30 over Cast Pistons w/ Michigan 77 bearings & Sealed Power Moly Rings
Melling High-Volume oil pump, Fel-Pro Gaskets, and ARP bolts
CompCam High Energy 260H grind cam. With 260 Advertised duration, at .050
212 duration, gross valve lift .446, and lobe separation of 110 degrees.
CompCam kit came complete w/ matching timing chain, valve springs, lifters,
Retainers and locks, and hardened valve seals. Crane Energizer 5/16" pushrods
Edelbrock Performer intake manifold (#3701) w/ 650cfm QuadraJet Carb,
K&N AirFilter,
Accel SuperStock 8MM wires, HyperTech PowerCoil Cap & Rotor
160 degree thermostat, AC plugs (gapped @.40), Flowmaster single in/out muffler custom tailpipe
Castrol GTX 20-50w oil, ACDelco Oil Filter.
The Interior:
B&M Console MegaShifter
AutoMeter Pro-Shift Light w/ Blue lens & 4,800 rpm pill kit
Grant GT 4-spoke stearing wheel
AutoRing Aluminum pedals
Filler Safety 4-point harness
Detachable face radio w/ stock 4x6 & 1" motorola tweeders (front) and Pioneer 6x9's (rear)


William Kahrs