Lonnie Pavtis 1968 RS SS Camaro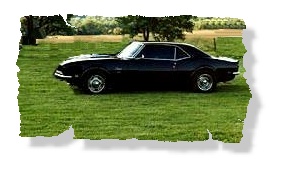 Pittsburg,PA

MODIFICATIONS:
ENGINE: 396
HP : 632@7200
TRANS: M21 4-speed
REAR: 4.10 12 bolt
11.7:1 comp
7/16 rods
Cross drilled
nitrided
steel crank
Fully ported rectangle port heads w/ Manley ProFlo 2.3/1.90 valves
Crane 1.7 rockers
girdle
Crane roller 262/272@.050 .708/.708
800DP Holley flowed to 1040CFM
Ported Edelbrock C427X intake
2-1/8 Hooker SuperComp Headers
MSD6AL
Completely stock body & interior, fully restored
1/4mi.: 10.98
MPH: 132.33
Lets Rock !

Lonnie is also the Owner of Lonnie's Performance Automotive specializing in High Performance
parts for your late model LT1 & LS1 Camaro. Check out his web site for more info and
tell him you saw it here for special prices on all his products. If your looking for an ATI Procharger,
Lonnie is the one to talk to !!

Lonnie Pavtis