George Baxter 30th Anniversary SS '383'
Supercharged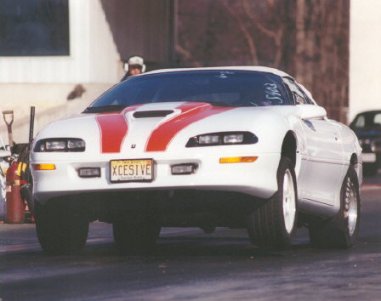 MODIFICATIONS:
ENGINE
"383" - Calles Crank - Oliver rods - JE pistons - CNC LT1 Heads -
Comp cam
Vortec "T" Aftercooler
Engine Dyno 761HP @ 5800 749 ft/lb @ 5200
Chassis Dyno 636HP @ 5700 601 ft/lb @ 5200
That is NO Typo !
ENGINE MANAGEMENT MOTEC
(8) 1 individual coil per cylinder
Dual Fuel Pump system (switch activated) T-Rex or Weldon
Adjustable wastegate 11lbs / 17lbs
EXHAUST
ASM Headers for 95
Custom Dual 3" Random Cat Y-pipe
Mufflex 4" Exhaust
TRANSMISSION
Art Carr 700R
9" Torque Converter 3800 stall
Energy Susp Trans Mount
SUSPENSION
Custom made Strut Tower Brace
Mac Sub Frame connectors
Eibach Drag Launch Kit
Hotchkiss trailing arms & panhard rod
Custom adjustable Torque Arm
LPE 3 1/2" drive shaft
REAR
Strange 12 Bolt 3.42
BRAKES
Baer Cross Drilled and Sloted
Hurst Line Lock
Best 1/4 run 10.23 @ 133.43mph The car runs on pump gas and is NJ emission Legal.
This car has been featured in GM High Tec magazine several times as well as Super Chevy and remember you
saw it here First ! George is also a personal friend of mine and I would like to Thank him for his help
and support !! Way to go George !