Alan Soab 1995 Z28 Supercharged & NOS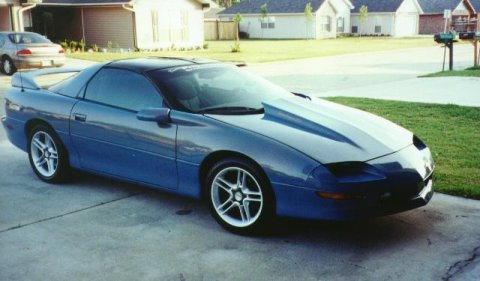 MODIFICATIONS:
1995 Team Performance SS, Inc. Z28
Engine:
Lt-1 Bored .030, Rotating Assembly Balanced and Blueprinted, Stock Crank Polished, Stock Heads Hands Ported, After Market Intake 2.00 and
Exh. 1.60 Swirl/Undercut One Piece Lunati Valves, 5-Angle Competition Valve Job, Gasket Matched Intake, Lunati Forged Blower Pistons 10:1,
Lunati 6" Forged Rods, Lunati 227/234 Cam, Lunati Valve Springs, Lt-4 Timing Chain Set, 1.6 GM Roller Rockers, ATI 12lb Supercharger,
3-Core Intercooler, FMU Bleed Valve, ATI In-line Fuel Pump, Hypertech Power Programer Plus with Blower , Cam, & Header Tuning, Hypertech
160 Powerstat, Hypertech Adjustable Fuel Pressure Regulator, Volt Blaster, MBA 10% Alt. Pulley, K&N Billet Valve Cover Breather, 24# SVO
Injectors, Jacob's Magnum Pack Ignition, Jacob's Boost Master, & Royal Purple Throughout.
Transmission:
Poly Transmission Mount, 2500 RPM Stall SLP Torque Converter, 3.73 Richmond Gears, TransGo Performance Shift Kit, B&M Transmission
Cooler & Aluminum Drive Shaft.
Exhaust:
AS&M Coated Headers, MAC Offroad Pipe, Summit 3" Exhaust Dump, & 3" Cat Back with a 3" Supertrapp Muffler.
Suspension:
Kenny Brown 3pt Engine Bay Brace, Hotchkis Performance Springs, Hotchkis Rear Trailing Arms, Hotchkis Panhard Rod, MAC Subframe
Connectors, Rear Axle Air Bags & Custom 5pt AutoPower Roll Bar with 5pt AutoPower Racing Harness.
Interior:
RKSport White Face 150mph Speedo w/custom MBA Billet Cover, Cyberdyne Air/Fuel Guage, Cyberdyne Fuel Pressure Guage, Greg Day Dual
Piller Pod, RKSport Dual Guage Panel, & AutoMeter White Face Boost & Oil Pressure Guages.
Appearance:
Custom Green Copper Pearl Paint, Performance SS Billet Throttle Body Plate, Performance SS Billet Alt. Fan, Billet Radiator Cap, Polished
Radiator Cover, Chrome Power Steering Cap, Chrome Brake Res. Cap, Carbon Fiber CAMARO Hatch Letters, RKSport Wing, Performance SS
Cowl Induction Fiberglass Hood, & 17 X 9.5 Borbet Type M Rims.
Misc.:
Clarion Pro-audio CD Player, 4 - 6 1/2" Polk Audio Mids, PowerAcoustik Tweeters,
2 - 12" Savard ProSeries Subs, Custom Sub Box, JBL GTQ 360 4 Channel Amp, PowerAcoustik 250 2 Channel Amp, Infinty Kappa 3-way
Crossover, Scotcher Wiring, Bell Radar/Lazer Detector, Phazer Radar/Lazer Jammer, Auto Xray Scanner, & 16" Mickey Thompson E.T. Street
DOT Slicks Mounted On Stock 97' Rims.
Performance:
3,920 lbs
11.88 ET @ 115 MPH Blower 6lbs (before rebuild)
11.59 ET @ 119 MPH Blower 6lbs & 50hp NOS (caused the rebuild)
Alan is sponsored by Performance SS Inc. Specializing in Supercharged & Nitrous F-Bodies