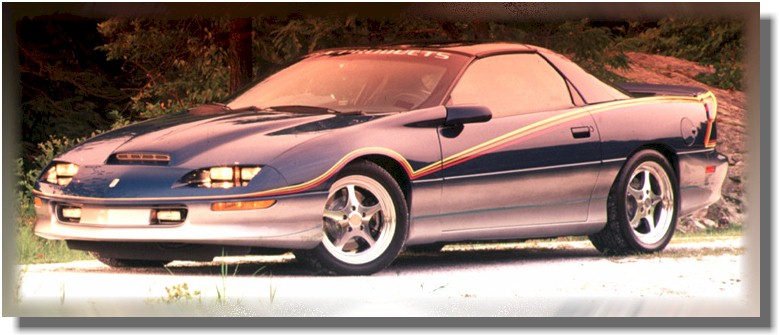 John LeBlanc's 96 Z28
LT4 383 stroker
515 rwhp
(still tuning!)
Accel DFI w VIC & WIde Band
36# injectors
(going to 55# !)


(from Jan 99 GMHTP article)

Lunati internals
58 mm ASM throttle body
Vortech S trim
12 lbs boost
SLP 1-3/4" headers
Borla 3" cat back singl outlet
ACPT carbon fiber driveshaft
3:73 GM gears
Koni shocks
Hotchkis lca & panhard
ES bushings
Eibach Pros
Baer brakes front & rear
Centerforce clutch
LG torque arm
Double Diamond subframes
6 pt SW cage
5 pt harness
complete custom
interior
SLP Ultra Z hood
w custom insert
custom paint
AR LeMans 17x9 (frt) & 17x11 (rear) wheels
Purchased new in July 96, the mods started within a few weeks. By Spring of 97 I was
running mid 12's with the help of the Vortech S trim. For 98 I decided to take the car
where few have gone. To make an all out "go fast and look good" street driver, most
of the year was spent on painting, motor building (a complete swap using the LT4),
interior work and tuning. By late in the season, it dyno tested at 515 rwhp and made
only 2 runs at the track. No high end fuel and a weak clutch kept her from the mid
eleven's, but the conservative runs netted back to back 12.1x times at 124+ mph.
I can't wait for the 1999 season! She sleeps in storage for the New England winter.
My MVZ will be featured in GM High Tech Performance magazine mid Spring of 1999.
A spec fuel delivery system, Hooker long tube headers and 3" dual exhaust topped with
a set of slicks should plant me firmly into the 10's for 99 (& perhaps cost me a new rear)
After all.........the rear is the only thing left stock!
The car is dedicated in memory of my oldest son, Jesse.



John LeBlanc