Collin MacDonald SS #547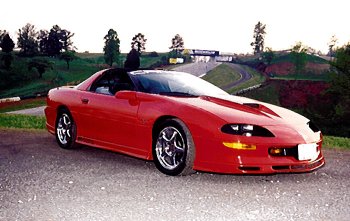 .


MODIFICATIONS:
58MM BBK Throttle,
Mallory Z28 SS Throttle Plate
G2 Throttle Throat
G2 Mass Air
LT-4 Intake, Ported and polished (red)
SLP Manual Fuel Adjuster
MSD 6L Ignition
Taylor 8.5mm wires
Crane Hi6 Coil
Heads, Machined, Ported, Polished
LT-4 Chain drive
Crane 1.6 Gold Rockers, New springs, rods, and retainers
Titanium Valves
Hypertech 160 degree thermostat
TR400 CAM (custom milled to specifications) won't tell Lift or duration
SLP Headers, Jet Coated
Custom built cat back exhaust system 3" with polished tips
Mallory billet fuse box cover (red)
Mallory billet waterpump plate cover (red)
Hyperteck Programer +
Centerforce Dual Friction Clutch
SLP Billet Flywheel
SLP Oil Cooler,
Chrome Red Bowtie Valve Covers (centerbolt)
Polished Alternator with billet fan
Polished Stainless Steel Battery Cover
Chrome fan Shroud & various chrome fluid covers
Red electrical counduit coverings
1Le Aluminum Drive shaft
Auto Torsen with 3:73 rear end
Hurst Short through Shifter, Shift eliminator
G2 Pan Rods
G2 Torque Bar
G2 Trailer Arms
G2 Engine Brace
G2 Sub-frame connectors
Eibock Springs (lowered 2 inches)
Bear Brakes 4-piston with crossed drilled calibers
GM F1 Ground effects package
custom painted center (SKUNK) black stripe
Carbon filled dashboard
Carbin filled door sills
RK Sport White Dash Insert,
ATI ProCharger P600B all Polished with 8PSI,
Performance Meter Silver Tachometer
Column mounted meters, Boost and Fuel Mixture.
30lb Fuel Injectors
MSD Boost Retard Module
Custom gear shift knob
Electric radio antenna
Custom Billet front grill (not shown on picture)
ZR1 OEM Wheels Chromed 17"
--------------------------
The car has been signed by Jon Moss and has won its class in Super Chevy
for the past two years and many other awards.
I have raced it on road tracks, have reach speeds up to 170 MPH
at Atlanta International Speedway, and it still had guts. I don't drag
race, but had it clocked 0-6 in 4.2 seconds.
------------------
The car was futured in the JUNE ISSUE of Super Chevy under the title of "Flexing Muscle"
and again, currently futured as a COVER CAR on the 1999
Anual Edition of "Camaro Performers" with a color photo on page 72.
Finally the car will be featured on "My Classic Car" with Dennis Gage under "Camaros at
Carlisle, due to air January 2000. Took first place in its class at Camaro's at Carlisle this year.
The car now has over 600 Horsepower!!!!