Aric Vonasek 1984 Z28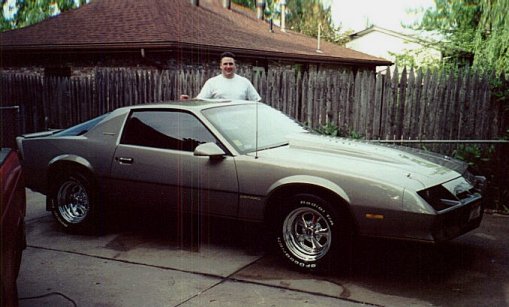 .

MODIFICATIONS:
This is my 1984 Camaro Berlinetta. I
am the second owner of the car and I have done numerous upgrades. In
the summer of 1995 the car was totaled in a 5 car pile up when that
happened I went wild. I wanted to keep the car as original as possible
but while maintaining a bad ass image. I had a good friend at a car
dealership do the body for my which included a fiberglass 2 3/4" cowl
induction hood. I have added a full exhaust system which includes
edelbrock headers a high flow cat and then a 2 3/4" straight pipe
leading to dual resonator tips in the back. The transmission is a 700R4
that I pulled from a wrecked corvette and had up dated with a B&M trans
pack and a larger servo and a new kickdown system and some other
goodies. The engine currently is the 305 with a edelbrock performer
plus cam & intake manifold and SLP ignition system. What power there is
is routed out the back through 3.73:1 richmond gears that are tyed into
ARE Wheels with BFG 275/50-15's in back and 235/50-15's in front. The
car still has all of the Berlinetta goodies in the interior which
include the digital dash and power everything. I have added some new
infinity speakers front,back and a set of tweeters powered by a MTX
amplifier. Just enough to hear good music from time to time without
affecting the rumble of the exhaust. I have won several car shows
including a Sheriff's best of show at a Lincoln car show. The car is
not real exciting but runs modest mid to low 14's. Future mods include
a Vortec headed 350 cui engine that should be close to 400hp. My
reasoning for building a Berlinetta? simple it's different than the norm
yet it's still a Camaro...


Aric Vonasek